HOW I SEE THERAPY…
My approach to therapy is collaborative. You and I will journey together on a highly tailored path we develop just for you. I see all of life as relational. We do not exist in a vacuum of solitude, rather we are in constant relation with everything around us (other people, our environment, our circumstances, etc.). We need others to reflect our existence back to us. And, we all really do need someone to lean on.
The counselling space can be a sort of sanctuary. To be able to sit in a room with another person who is committed to helping us through whatever we're going through, is pretty special. To sit with this person (a therapist) who has expertise about the capacity for humans to heal and grow, and who appreciates the expertise we embody about our self and our experiences. To look into that person's eyes and see life reflected back. To feel that we're not alone. To realize that we're still here—doing life—as long as we're encountering another. To sense that there's still something, some possible little spark between the two of us, that could be one step toward growth or healing. Well, if you ask me, nothing quite compares to that.
my areas of focus include…
Identity Formation

Anxiety & Depression

Life Direction/ Transitions

Finding Meaning and Purpose

Self-Esteem
WHAT THERAPY CAN HELP WITH…
As a therapist, I work with teens and adults to help them find meaning, direction, and a sense of self. I am passionate about storytelling, and I love helping people make sense of all their challenges, and craft their life storythe way they want to live it.
I am an existentially-informed counsellor. This means that I work with people to help them tackle questions like "who am I?"and "what am I doing with my life."These are huge questions! Tough questions! And they can creep up on us at many different times, for many different reasons.
Sometimes it's something we see coming. We watch a big life transition approach for a while before it's upon us. Like our impending graduation, or retirement, or moving to a new place, or any other kind of significant life transition. Other times it seems to wallop us upside the head, entirely out of the blue. Like an unexpected loss, or a sudden illness, or a traumatic event, or anything else that leaves us spinning. It could even be the realization that we've been living in some sort of unsatisfying rut for longer than we had thought, and are ready to change things up.
Or maybe we have no idea what's wrong—all we know is that something feels wrong.
There's no shortage of things in life that can leave us feeling unsure. Unsure of who we are, or what life is all about, or if we can live with what life has given us. Things that make us feel overwhelmed, confused, sad, mad, hopeless. Things that make us feel like we're a little less connected to life, and a little more lost or checked out.
My job—which I love!—is to help you reconnect with life. Rediscover (or find for the first time) who you are and how you want to live in this world. So that you can live an authentic life that aligns with your values, despite the fact that painand sufferingwill always be natural parts of the human experience.
I believe in the grit of the human spirit. I know we all carry resilience within us, and I believe there is always a way to tap into it. I am here to accompany and support you on this journey.
WHO I AM…
I received my undergraduate degree, a BA in Psychology, from Simon Fraser University. And I recently completed my Master of Arts in Counselling Psychology at Trinity Western University, and am a student member of the Canadian Counselling and Psychotherapy Association (CCPA). I also have a certificate in online counselling through Therapy Online. My theoretical orientation is existential analysis, and I continue to participate in ongoing training in this area.
On a more personal note, I live, work, and play on the spectacular southern coast of British Columbia. I use an electric wheelchair to get around all day, every day. In my free time, I love to read and drink black coffee, make music, write, watch movies (I particularly enjoy scary films!), and spend time with my loved ones.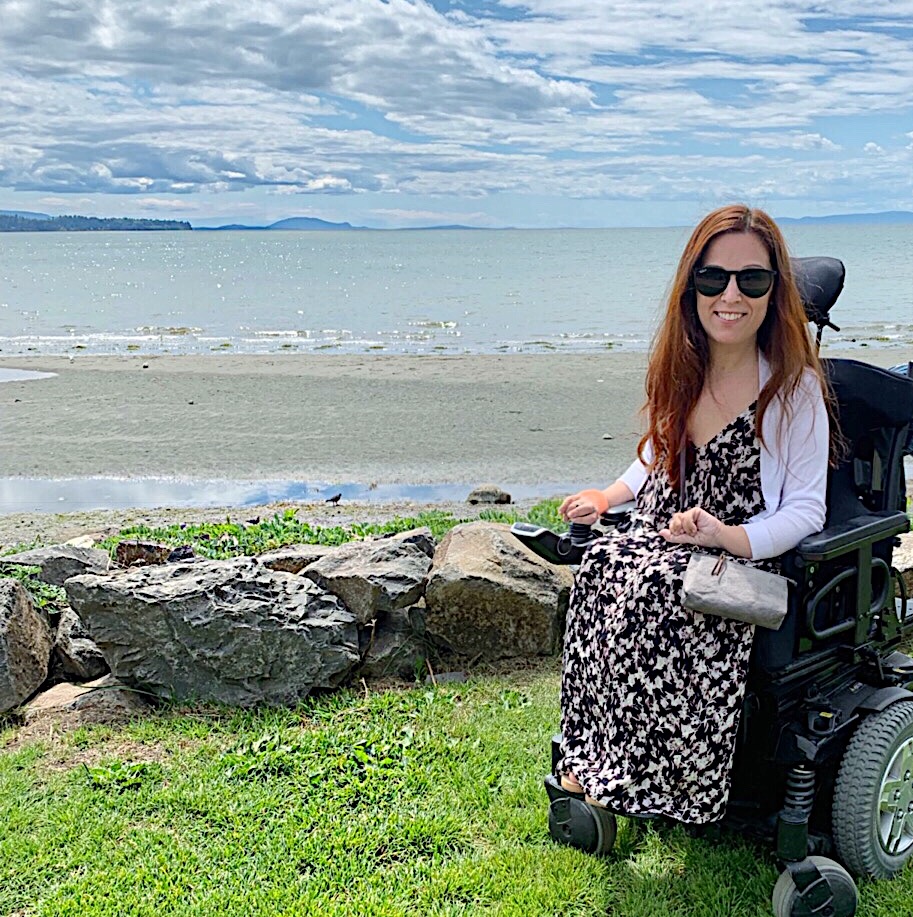 If you would like to know more, please do not hesitate to contact me.